When:
September 12, 2019 @ 2:00 pm – 3:30 pm
2019-09-12T14:00:00+00:00
2019-09-12T15:30:00+00:00
Where:
Midfield Recreation Center
410 Grant St.
Midfield
AL 35228

Contact:
Lois Simmons
(205) 744-0883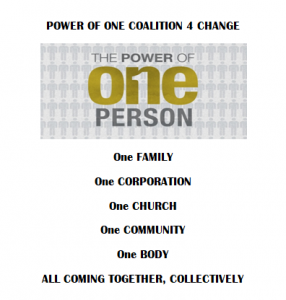 Bingo games are great fundraisers that will be used by The Power of One Coalition 4 Change. Bingo games will enable the Coalition to support the objective of demonstrating God's love for his people. Bingo games will also be used to assist in multiple projects and causes. We meet to plan, strategize, prepare and conduct these events. We decided to use playing Bingo games as an avenue to raise funds to support numerous causes that will help many families. Bingo games usually bring family and friends together, most importantly, they raise money to create better communities and raise the standards of living for families. Winners will be able to win help with a Utility Bill of choice (Power, Gas, or Water) and sometimes in other areas like food and gas prizes.
Last year, a truly inspiring organization in Jackson, Mississippi named Springboard to Opportunities, came to our attention. Their web address is . They have many ways to help under served residents in communities. Because of the things learned about this organization, the Coalition was stirred up to produce an initiative for our organization. The Power of One Coalition 4 Change wanted an activity that would provide fellowship, joy and fun for all. Because of this, our spiritual ears and eyes had to be opened. An idea that was done in the past came to mind. As God begin to show us how to use a previous initiative, we were pleased. We drew upon the new information. We created a way for him to demonstrate his love to his people. Consequently, we established rules to go along with the new way of playing the game of Bingo.
I visit the Church of the Highlands websites often. They contain a vast amount of information and encouragement for members to find purpose and get involved in Kingdom Work. Their site is .. I am encouraged how they demonstrate God's love to his people all the time. They provide small groups with leadership that gather together to become known by others in such a large church structural. The small group I chose is Power of One Coalition 4 Change.
It is noteworthy that most people you ask, like playing the game of Bingo, especially if there are amazing prizes involved. Similarly, some love playing Bingo. Consequently, bingo games are great fundraisers if they are organized properly. For that reason, the Coalition set out to recruit people that was interested in participating. Seems like today's biggest problem among people is the older generations don't want to leave the house to participate in community activities. So, it is our intent to canvass various neighborhoods to distribute flyers that will notify residents of activities taking place. It might be the most expedient thing to do and it might accomplish the objective of bringing them out if the residents find it beneficial to their household. At first, it was thought that we should draw names in the various communities and have church members play a game for that individual or household, but we rather decided to include everyone that came to play the game. This would eliminate restrictions that might have to be placed on players.
The Coalition wanted to have a 6 hour time span in playtime. This would, hence, cost more to rent space and require more work in producing additional materials. As a result, this would mean we would need more help with distributing announcements. That is why we decided to refer to the time span as a Bingo-Thon. We also have to consider the timing of the events to accommodate those who don't want to be out late at night because of unsafe environments and fear of trouble. Probably, the best time to host these events would be on Friday and Saturday. With the 6 hour time span, older adults can plan earlier time slots. When the needs are great and neighborhood conditions are poor, it causes people to close themselves off from the community. That shouldn't happen in community life, but unfortunately, due to negative conditions, it is normally the case.
This would be the Coalition's first event of this nature. It seems like it will be overwhelming to pull off. We have great expectations for the event and believe we will be successful. Due to the fact that it's our first event, we will probably be shocked at the outcome. As a result, we will gain valuable lessons and experience that will help us strive for excellence in the next event. The more we consider organizing the event, it seems like more of a challenge it presents.
If you're in Birmingham, Alabama or surrounding cities, you will possibly be able to attend sometimes. So, if you would like to receive notifications of time, locations and other information, please JOIN our Facebook page name Community Families United Network @ or check our Upcoming Events Calendar @ https://www.MyCfun.org . You can also email fcresouces@aol.com to get on our distribution list or join our Community Families United Network Group @https://www.facebook.com/groups/382302059290096/. You can also see our postings on twitter at https://twitter.com/MyCfunOrg.
The Coalition is looking forward to hosting these events. The joy and fun experienced in these activities will bring the community together again like in days past. Everyone will be able to form friendships and bond with one another in the way God wants us too. We will learn the blessings of UNITY found in Psalm 133. We will recognize that it is God bringing or restoring the time that has been eaten up by negative circumstances. Once we establish these important connections within the communities, we can work toward developing safer environments for our seniors and our children. All in the Coalition is looking forward to bringing back these times.
It isn't going to be too expensive to play the games. The prizes will more than make up the cost to play. The cost per card at these events will be $3.00 with no admission charge. We believe through unity, we will be able to provide the resources to help many households. We'll literally be opening a portal for God to pour out his blessings to his people. JOIN US!!!